08 février 2013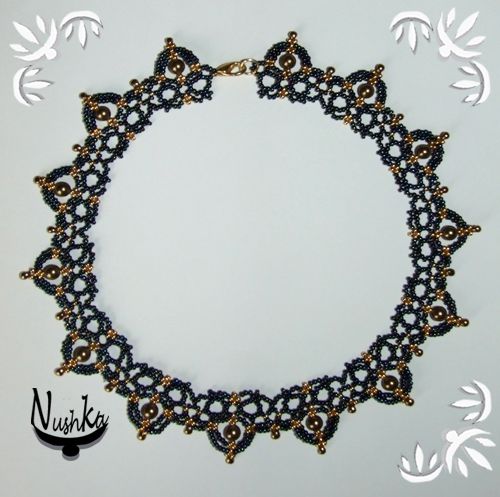 Petite dentelle horizontale de ma création, en trois rangs/
A tiny horizontal lace of my own design in 3 continuous raws
Son schéma est en vente sur /Pattern on sale on site /Схема на продаже на сайте :
Les Perles de Paline
en français
in English
Materiel utilisé/Material used :
Miyuki 11/0 Metallic Blue Iris and 11/0 Gold Plated 24 kt, Mini Drops 3.4 mm Bronze, Swarovski 6mm Antic Brass.
Vue detaillée/Detailed view :

Merci pour votre visite ! /Thank you for your visit / Спасибо за посешение, не колебаетесь мне написать коментарий если Вам нравится (по Русский разумеется)!
07 décembre 2012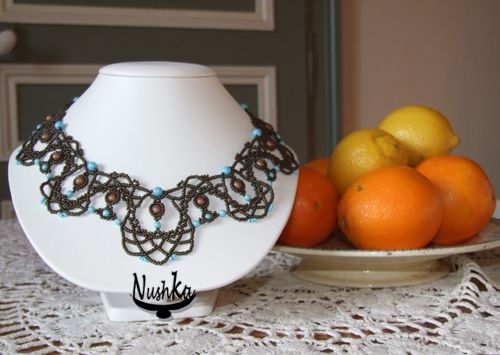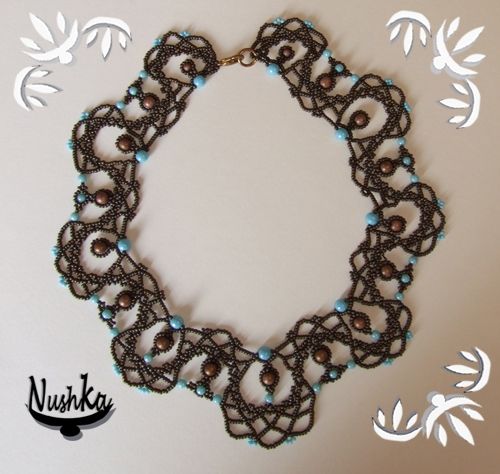 Son schéma est en vente sur le site / Its pattern is on sale on the site / Схема на продаже на сайте : "Les perles de Paline"
Je ne l'ai pas fait exprès, mais ces derniers temps, les modèles en forme "serpentin" fleurissent sur le net / It did not do it on purpose, but lately models in serpentine form are blooming on the web, such as :
- Collerette en dentelle au fuseau avec insertion de perles dans l'album d'Elena Babij /Serpentine necklace in bobbin lace with bead insertion by Elena Babij : http://www.biser.info/albom/40657
- L'adorable petit cheval d'Alexandra en dentelle au fuseau /Alexandra's lovely little horse in bobbin lace here : http://krajkyakoralky.blogspot.fr/2012/04/konik.html
Voici de quoi avait l'air mon jardin quand je me suis levée ce matin. Merci pour votre visite / Here is what my garden looks like when I woke up this morning. Thank you for your visit :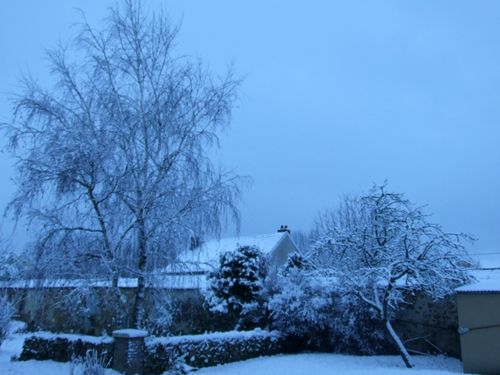 05 décembre 2012
Je vous présente quelques colliers de la collection "Rêve de fleurs" de Marirus (Maria Voukolova de son vrai nom). Je la remercie pour l'autorisation qu'elle m'a donnée à vous les montrer ici/ Let me present you some necklaces from Marirus' "Flower Dreams" collection. I thank her for the authorisation that she gave me to show you her work here / Я хочу Вам показать некоторые украшения из колекции "Цеточные сны" Марии Вуколовы. Я её благодарю за разрешение Вам показать её украшения сдесь.
L'Amante du Vent / Wind's Lover / Любовница ветра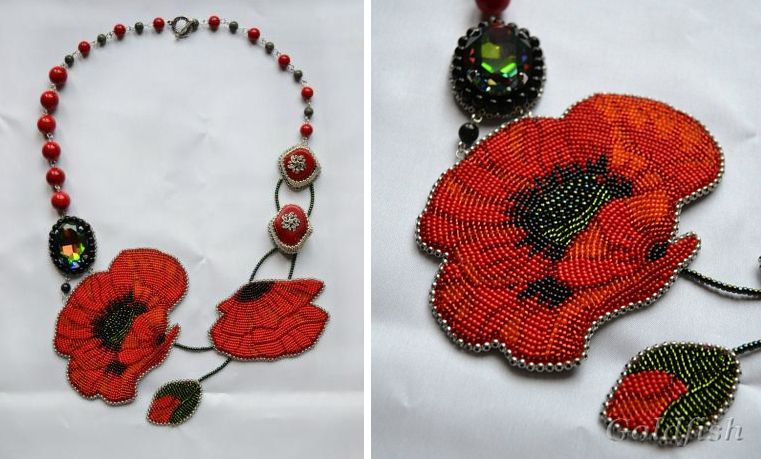 J'aime sa manière "très à elle" de présenter les fleurs en aplat - et non en relief comme on le voit souvent dans les colliers fleuris. J'aime sa composition très découpée, la précision de ses coloris et la finition soignée de son travail. / I like her very "own way" to present flowers flatly - and not in relief as it is often the case in flower necklaces. I like her very cut composition, the precision of her colours and the careful finitions of her work.
Les Soupirs du fleuve Amour / River Amur's sighs / Вздохи Амура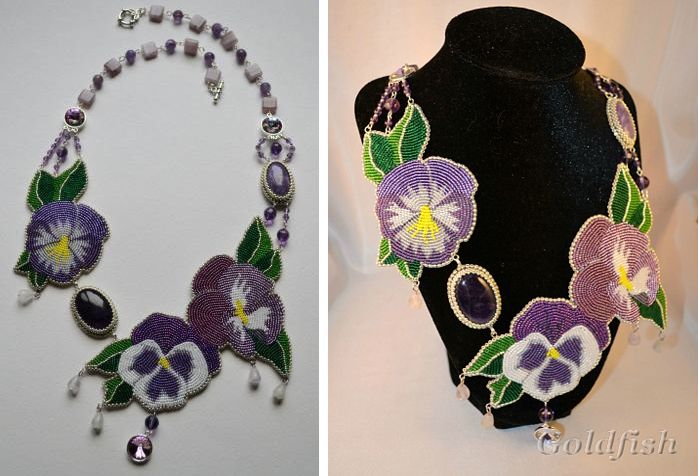 Il existe en Russie un fleuve nommé "Amour" littéralement et les Russes, sans toujours parler notre langue, savent ce qu'Amour veut dire en français, ce qui permet des jeux de mots sentimentaux / There is in Russia a river named "Amour" literally and Russian people, even when not speaking French, know what Amour means in French, which allows a sentimental play on words.
Iris pour la petite Oxanne /Iris for Little Oxanna / Ирисы для Оксаночки

J'aime un enfilgage inédit avec pierres serties, parfois alliés avec un cabochon Svarowski dans un jeu de contrastes mate et transparent/ I like an unusual threading made of set stone, sometimes allied with a Svarowski cabochon in a game of contrasts betwenn mat and transparent.

La fidèlité du Cygne / The Swan's faithfulness / Лубединая Верность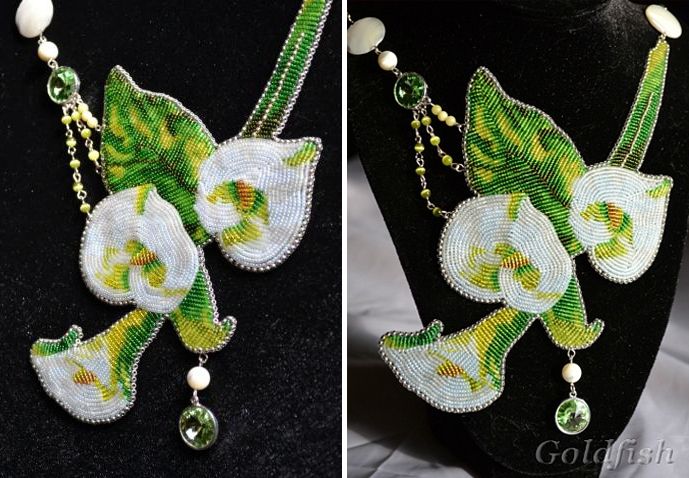 "La large pétale du lys se déploie, semblable à l'aile du cygne. Le Cygne est symbole de fidélité, c'est pourquoi on voit souvent des fleurs de lys dans les mariages" (Extrait du commentaire de Marirus). / "The large petal of the lis reminds us of the Swan's wings. Swan symbolises faithfulness. This is why the lis flower is often seen in marriages" (Exert from Marirus' comment).

La légende du Lotus qui chante / Legend of Singing Lotus / Легенда о Поющем Лотусе

Се сollier a remporté la 3e place du concours MON ASIE sur Biser.info. Marirus s'est inspirée d'un roman de Steven Taylor "La légende du Lotus qui chante de Mekshi" (Mekshi est une région dans l'Est du Népal) / This necklace won 3rd place in contest MY ASIA on Biser.info. Marirus was inspired with a book by Steven Taylor " The legend of Singing Lotus from Mekshi" (Mekshi is a region in Eastern Nepal).

Album de Marirus /Marirus' personal album : http://www.biser.info/albom/40505

Toutes les photos du concours MON ASIE/All photos of contest MY ASIA : http://biser.info/albom/76914

20 juillet 2012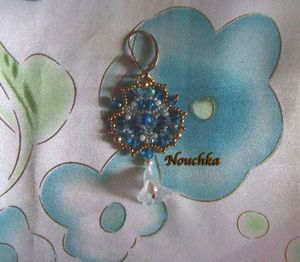 Elle voulait une paire de boucle d'oreilles pour aller avec le tissu de sa tunique / She wanted a paire of earrings that would match the motifs of her blouse.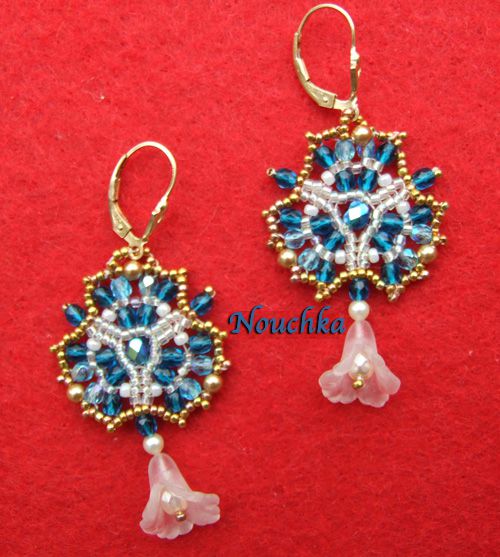 Fleur Bleue, tel est leur nom, auraient-elles une autre couleur. Libre à vous de les tisser dans d'autres teintes avec le schéma que je vous donne ci-dessous. (format PDF à télécharger)/Blue Flower is their name, would they have another colour. Feel free to weave them in other colours with the pattern that I give you hereunder (PDF format, to download) :
(cliquez sur le lien pour télécharger/click on the link to download)
16 juillet 2012
Pour son mariage, elle a souhaité que je lui fasse un bracelet et des boucles d'oreilles sur le modèle du Masaro de Mu/ For her wedding, she wished me to make her a bracelet and earrings on Mu's Maraso pattern (http://centperles.canalblog.com/).
Et voici ce qui est sorti des mes doigts /And here is what came out of my fingers :

Un cocktail de facettes dorées, champagne, crème et chocolat / A cocktail of golden, champain, cream and chocolate facets.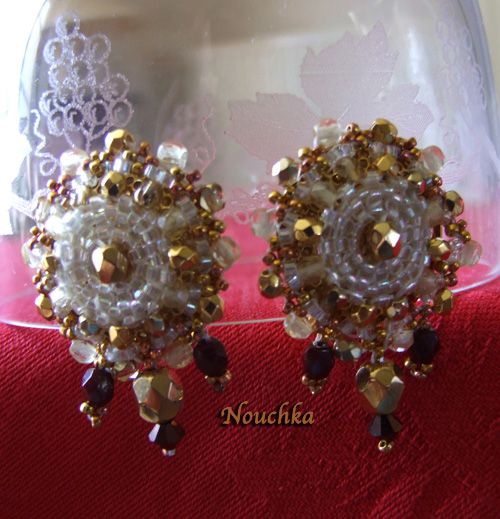 BO-clips cousues sur tamis, qui leur donne un léger relief bombé.../Clip-on...
et version pour crochets d'oreille/and version for ears' hooks.
Allez, une dernière vue du bracelet :/Let me show you a last view of the bracelet :

26 avril 2012
Le schéma de ce collier, crée en 2010, est maintenant en vente sur le site :
/ The pattern of this necklace, created in 2010, is now on sale (English version) on the site :
06 mars 2012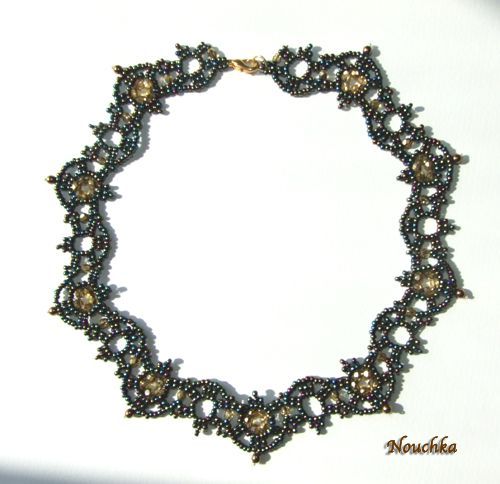 J'ai réalisé cette chainette sur la base d'une partie du motif du challenge 9 créé par Coco pour Perles et Dent'Elles.En rocailles green iris et des facettes Crystal gold./I made this chain on the basis of a part of Coco's motif for the 9th Challenge on Perles et Dent'Elles (with Green iris Seed Beads and Crystal Gold facets).
04 mars 2012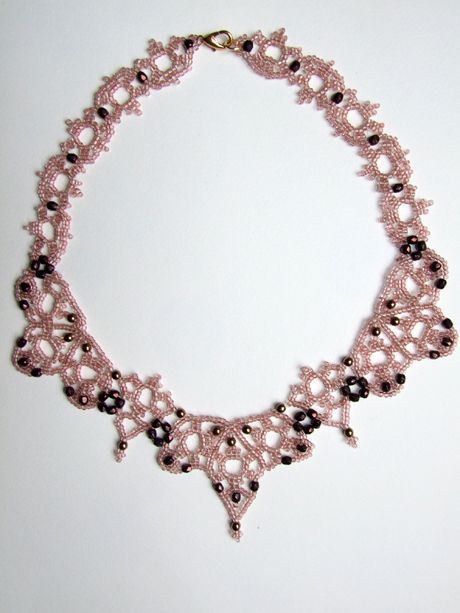 Voici ma participation au challenge 9 à partir d'un motif créé par Coco-Labijoutisse.
Je vous invite à aller voir les autres réalisations de ce challenge ici, sur le blog Perles et Dent'Elles.
22 février 2012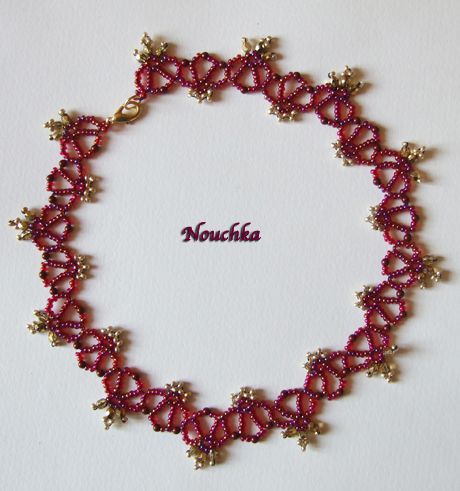 Voici ma première création de l'année. Agréable à porter, facile à perler. Vous trouverez son schéma sur le blog collectif Perles et Dent'Elles.
This is my first creation of the year. Agreable to wear, easy to bead. You will find its pattern on the collective blog Perles et Dent'Elles.
Вот моё первое авторское укращение года. Вы найдёте его схему на коллективном Блоге Perles et Dent'Elles.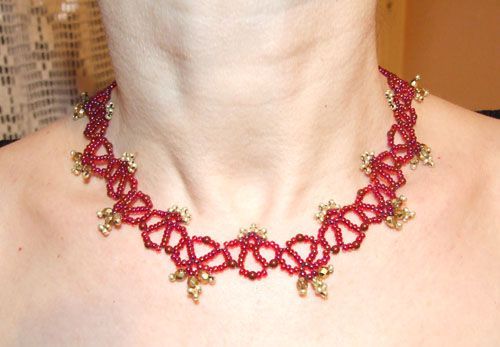 02 février 2012
En attendant de vous montrer mes nouvelles réalisations, voici un aperçu de La Petite Soeur de Melle Ming en robe rouge Siam, teinte choisie par sa destinataire.
Awaiting to show you my new realisations, here is a glance towards Miss Ming's Littel Sister dressed in red Siam, a colour chosen by the adressee herself.